'I've been to many of these things and this was refreshingly good.'
On a Saturday afternoon in late September, the 12th-floor room in a downtown Vancouver office tower was buzzing. People looked around for familiar faces, quietly talking. The list of speakers read like signatures on a petition. Folks seemed nervous; they were full of emotion at finally being at a public input event for Site C after years of asking for it, but they weren't sure if they would truly be listened to.
The Sept. 23 meeting was the first public input session for the BC Utilities Commission's Site C inquiry, and one of two that would be held in Vancouver. Forty-one people spoke to the panel that first day, sharing opinions, perspectives, facts and analysis on the project. The four-person panel, led by BCUC chairperson David Morton, listened.
"David definitely was actively listening, that's the feeling I got. He was present. You looked straight at him, and he was looking right at you," said environmentalist and Order of Canada member Vicky Husband afterwards. "I've been to many of these things and this was refreshingly good."
People have been calling for a BCUC review of Site C since the former Liberal government approved the $9-billion dam without a full independent review. They're skeptical of this review partly because it's scope only deals with one aspect of the dam's impact, and partly because of bad experiences at other review panels.
The BCUC review panel scheduled 11 public input sessions around the province, three First Nations input sessions, and two full-day technical input sessions. To open each session, Morton commented on the high quality of written submissions the panel had received.
"This affirms what we already know, that there are experts and affected parties who can bring us insight into the many complexities of evaluating the economic impacts of the Site C project," he said. "We recognize that our findings are better with your input."
For presenter George Smith, expectations were low because of his experience at the National Energy Board hearings on Enbridge. "It was one of the most dishonorable, shameful experiences I've had, and I'm in my late 60s," he said. "I was ashamed of the people who were there. I knew that nothing I said mattered one bit. They were rude to people, the [Enbridge staff] were sitting right up there with the panel, they threw people out of the room if they went one second over time, they abused people verbally. It was awful."
He was reserving final judgment on the BCUC session. "They were polite to us, they weren't rude and they appeared to be listening. So who knows."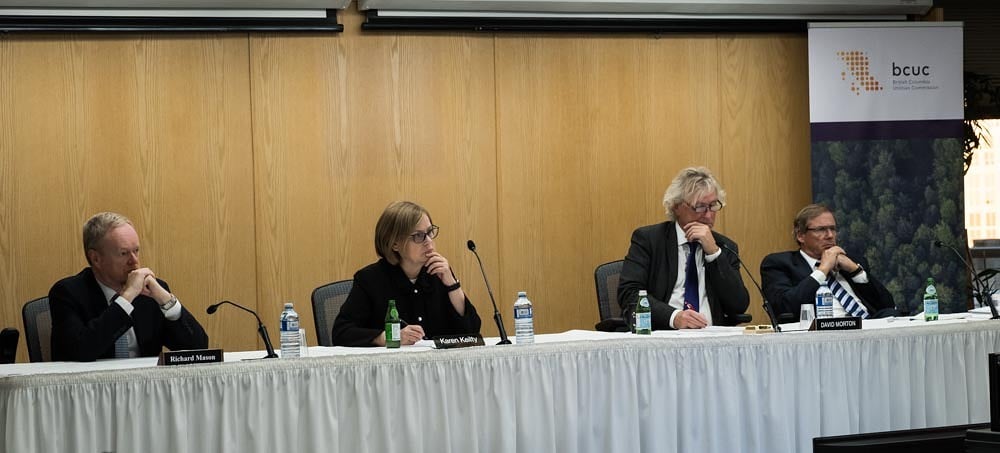 Since that first day, the panel has held nine other input sessions around B.C., with two in Fort St. John and another one in Vancouver Oct. 5. Two hundred and nine people have presented to the panel so far. There are two more public input sessions where anyone can register to speak, one more First Nations session, and two full days of technical presentations scheduled for this week.
Morton reiterates at each session that they won't consider comments outside their scope, which is how are ratepayers affected in each of three scenarios: complete the dam, pause it or cancel it. Yet a great number of presenters have spoken about First Nations rights and the agricultural potential of the valley in the flood zone.
"I understand that those factors can't be taken into consideration, but I ask in your hearts and minds to consider that we have non-monetary currencies that have supported the existence of our people since time immemorial," said Saulteau First Nation member Julian Napoleon in closing his presentation. Napoleon received loud applause from the audience.